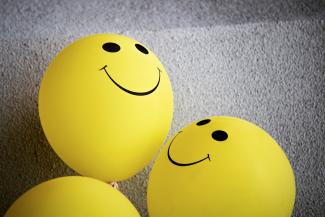 Are Emotions Controlling Your Personal Finances?
If anything good has come from the last few years of uncertainty and volatility, it's that many of us are becoming more financially literate. We're more aware of our finances and are better at prioritizing our expenditures. We're also more aware of how important it is to save for the future, while still enjoying the present moment. We make lists, and spreadsheets, and use planning and budgeting apps, all with the aim of better managing our lives.
But when it comes to our actions, we aren't completely rational. Part of our decision-making is emotional, and it's the emotional aspect that triggers an action. Actions are skewed by fear, guilt, exuberance, loneliness, or whatever else is influencing us. Because our emotions won't fit in a spreadsheet, we can't account for them. Depending on how you manage your emotions, they may be influencing you negatively.
Here are a few financial scenarios where emotions may run high:
Paying Down Debt
Many people with credit card debt typically have at least one account with double-digit interest charges. So when they develop a plan to systematically pay down their debt, they may choose to start with the high-interest debt first. But paying down a high-interest account can be a slog; they may feel like they aren't making any progress. The innate need for instant gratification and positive reinforcement guides many to smaller debts first, where it's easier to gauge progress.
While there isn't necessarily a bad way to pay off debt— as long as it gets paid— paying lower-interest debts first may cost more interest over time. It's motivating to check things off the to-do list, so we tend to tackle small jobs first. That may be what it takes to get through the whole list, but the costs may be higher. It may not sound like a logical approach, but we can easily rationalize our emotions to make them more palatable.
Purchase Decisions
A lot of people are becoming more serious about saving and are creating budgets. Unfortunately, budgets only happen on paper. When we're at the mall or grocery store, we become vulnerable to our emotions. How we're feeling in the moment, FOMO, or the urge to keep up with trends can all come into play. Whether it's buying a house with more space than needed, or a car with extra features that will never be used, people tend to lean into their emotions and rationalize later.
Investment Decisions
Investing can be an emotional roller coaster. Over the last few years, fear and uncertainty have driven many decisions and may be why some people feel like they aren't making progress towards their retirement goals. The fear of loss can drive people to sell their holdings, and the fear of missing out can drive people back to the market.
The market will always change. It will drop, and it will climb. That's why it's generally believed that focusing on the long-term and staying the course is better than chasing the performance of the market.
Overcoming Your Emotions
There is no easy way to take the emotion out of finance. Emotions are powerful and deeply personal. But you can learn to recognize and control how you respond to your emotions. The first step is to become aware of your emotions when you're making financial decisions. This can help you break the rational-emotional decision-making cycle.
Next time you have a financial decision to make, try taking a moment to ask yourself "why am I doing this?" If you find yourself rationalizing an action, even if it goes against your plans, it may be because you're being influenced by your emotions. Stop and try to take yourself back to your original plan to see if the action still makes sense. It may take time and practice, but it will get easier.
 
---
No strategy assures success or protects against loss.
This content is developed from sources believed to be providing accurate information. The information provided is not written or intended as tax or legal advice and may not be relied on for purposes of avoiding any Federal tax penalties. Individuals are encouraged to seek advice from their own tax or legal counsel. Individuals involved in the estate planning process should work with an estate planning team, including their own personal legal or tax counsel. Neither the information presented nor any opinion expressed constitutes a representation by us of a specific investment or the purchase or sale of any securities. Asset allocation and diversification do not ensure a profit or protect against loss in declining markets. This material was developed and produced by Advisor Websites to provide information on a topic that may be of interest. Copyright 2022 Advisor Websites.