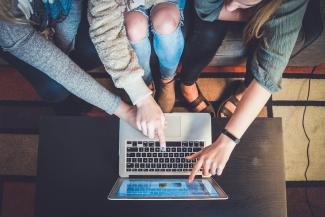 Embracing User-Friendly Tools and Staying Secure in the Digital Age (A Guide for Retirees)
In many ways, the rapid advancement of technology over the past 25 to 30 years has benefited our lives greatly and added an ease that humanity has never experienced, and it has transformed the way we live our lives forever. However, it has also created new concerns and risks that have never existed before, and it very easily can become overwhelming with all the changes that are still happening. Finding user-friendly tools and finding ways to stay secure in this new digital age can be a daunting task, but it doesn't have to be. There are tools available for you to use that can simplify technology while also helping you increase your security measures. Let's look at some of these tools!
Online Learning Platforms
Since technology is forever changing, learning about current and new technology is a vital step for retirees. There are several online learning platforms that provide comprehensive courses and tutorials. Some of these popular platforms include:
Senior Friendly Devices
When it comes to technology, having the right devices (or tools) can make a significant difference in your experience. Here are a few devices to consider
Security Tools and Measures
When embracing technology, it is essentially to prioritize your security. Here are some crucial security measures to keep in mind and some tools to help you with it.
User-Friendly Financial Tools
Lastly, tracking your finances used to mean balancing a check book and using cash. In today's technological age, there are an absurd number of businesses that don't even accept cash or check anymore, which has complicated personal finances. Here are a few tools that can help simplify that.
Conclusion
Embracing technology and staying secure in the digital age is within reach for everyone, including retirees, thanks to user-friendly tools and security measures. By embracing these user-friendly tools and security measures, rather than running from advancing technology, retirees can confidently navigate the digital world. Remember to explore the resources and websites above to learn more about them and find where to download or purchase them. As retirees venture into the digital world, they can stay empowered if they have the knowledge and resources needed to navigate technology confidently, safeguard their finances, and embrace the conveniences that technology has to offer.
Disclosures: The mentioned tools and resources are provided as examples and do not constitute an endorsement. Users should conduct their own research and choose tools and resources that best suit their needs.