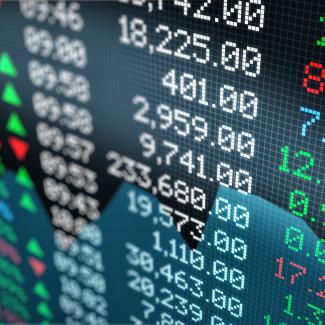 Is there a market correction incoming?
Markets tumbled, heading into negative territory, and then bounced back. And then promptly fell again.1 We're caught in a whipsaw pattern of uncertainty.
Is this weird?
Not really. These things happen pretty regularly when investors get jittery. Let's talk about what's going on.
(Scroll to the end if you just want my takeaways.)
What led to the selloff?
There's a lot going on.2 There's yet another debt ceiling deadlock between Congress and the White House, worries about the banking sector continue and sticky inflation is still on everyone's radar. And then there's the endless speculation about recessions and what the Federal Reserve might do next.
All these stressors lead to jumpy investors and nervous markets.
Could we see another serious correction?
Absolutely. If the debt ceiling standoff drags on or more bad headlines appear, markets could react negatively. And, corrections and pullbacks happen very frequently because there's always something going on.
How often? Let's go to the data.
Here's a chart that shows just how often markets dip each year. (You may have seen this chart before because it's an oldie and goodie.)
Take a look at the red circles to see the market drops each year.
The big takeaway? In 15 of the last 23 years, markets have dropped at least 10% each year.3
Market pullbacks happen all the time.
We're dealing with a lot of uncertainty and investors are feeling cautious. However, that doesn't mean that we should panic and rush for the exits. Markets are going to be turbulent this year and knee-jerk reactions can be costly.
I don't have a crystal ball, so I don't know how it's all going to play out, but this situation isn't surprising.
We expected volatility and we're prepared.
I'm watching markets closely. It's important to have a trusted financial partner who can share insights and help you stay rational when everyone else is emotional and reactive.
If you're facing anxiety or have questions about any aspect of finance, remember, you don't have to figure it out by yourself. 
You can contact me at info@gaddispremier.com. I'm here to help.
---
Sources
1.https://www.cnn.com/2023/05/07/business/stocks-week-ahead/index.html
2.https://www.cnbc.com/2023/05/08/stock-market-today-live-updates.html
3.https://am.jpmorgan.com/content/dam/jpm-am-aem/global/en/insights/market-insights/guide-to-the-markets/mi-guide-to-the-markets-us.pdf
Risk Disclosure: Investing involves risk including the potential loss of principal. No investment strategy can guarantee a profit or protect against loss in periods of declining values. Past performance does not guarantee future results.
This material is for information purposes only and is not intended as an offer or solicitation with respect to the purchase or sale of any security. The content is developed from sources believed to be providing accurate information; no warranty, expressed or implied, is made regarding accuracy, adequacy, completeness, legality, reliability, or usefulness of any information. Consult your financial professional before making any investment decision. For illustrative use only.
This content is developed from sources believed to be providing accurate information. The information provided is not written or intended as tax or legal advice and may not be relied on for purposes of avoiding any Federal tax penalties. Individuals are encouraged to seek advice from their own tax or legal counsel. Individuals involved in the estate planning process should work with an estate planning team, including their own personal legal or tax counsel. Neither the information presented nor any opinion expressed constitutes a representation by us of a specific investment or the purchase or sale of any securities. Asset allocation and diversification do not ensure a profit or protect against loss in declining markets. This material was developed and produced by Advisor Websites to provide information on a topic that may be of interest. Copyright 2023 Advisor Websites.